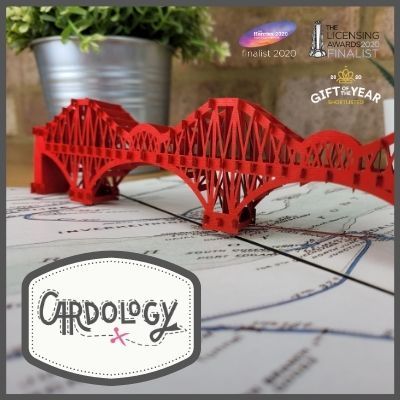 Cardology offer premium and officially licensed paper products which customers cherish.
Critically-acclaimed Cardology began when three family members, working in professional roles, felt their world was speeding up, and they were losing touch of the meaningful interactions they once enjoyed so much. They discovered the beauty of pop-up paper engineering in the Far East and pondered whether their own designs could help others searching to maintain similar connections.
Making full use of their engineering and creative backgrounds, production started in April 2014 and they haven't looked back since.
As a quirky, premium, and visually striking company, the team have a considerable following both within the trade, and directly with end customers. Be it licensed, off-the-shelf, or a bespoke creation, a Cardology card will always stand out.
Cardology view their offering as bridging the gap between a card and a gift; offering you a premium range for your very best customers.
The type of product that's perfect for a post-pandemic world; Is today the day you'll stock us in store?
Address
London
Greater London
United Kingdom
NEW

Special Offer: Spend £400 on pop-ups for a free spinner

Order over £400 on pop-up cards at the show and we'll include a free countertop display spinner

This offer is only available at the show

Offer expires on: 31-Mar-2021

NEW

Special Offer: Free Display Card with every 12 Pop-Up cards purchased

Free Display Card with every 12 Pop-Up cards purchased

This offer is only available at the show

Offer expires on: 31-Mar-2021

NEW

Special Offer: Experience our brand new packaging

Come and see our revolutionary reversible, re-usable and plastic free packaging

Offer expires on: 20-Feb-2021
Come and find your new bestsellers, with designs featuring Harry Potter, Friends: The Television Series, The Big Bang Theory and Looney Tunes
Eco & Ethical

Games & Toys

General Gift

Greetings Cards & Stationery

Scottish Gifts