Argyll Coffee Roasters
Collection: Food From Argyll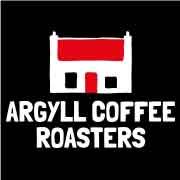 We hand roast small batches of speciality coffee at our roastery in Tighnabruaich on Argyll's Secret Coast in Scotland. We source the finest beans from around the world to create a range of seasonal single origin coffees and blends. We believe in sustainability and paying a fair price to growers. All our coffee is traceable to origin. We supply wholesale to cafes, restaurants, hotels, delis and farm shops in Argyll beyond. We work in partnership with out customers, helping them to get the best out of their beans.
Address
Tighnabruaich
Argyll
United Kingdom
We offer a range of seasonally changing single origin coffees from around the world, including Rwanda, Ethiopia, Colombia, Tanzania, Peru, Uganda and El Salvador. We choose only the very best, and eac ...

Our house espresso blend delivers a full-bodied coffee with bags of character. Its name is a nod to the paddle steamers that used to bring holidaymakers 'doon the watter' to Argyll. This blend is seas ...
Drinks

Eco, Organic, Ethical & Vegan